Oh March, the weather is ricocheting from -5 to 55 and back again. There is more snow coming, and even those not affected by SAD are beginning to feel light- and warmth- deprived. Really good fresh fruit and vegetables seem like a dream. It is late winter in the Northeast.
For those of us who choose to reduce our carbon footprint by not taking that warm weather getaway– aka, we are in the red– it is the time to get pretty creative with small gestures of escapism. After all, as we all know necessity is the mother of invention. And who doesn't need an excuse to get out the cocktail shaker and shake it?
Here at les collines, that has taken the form of developing some fresh and fun cocktails– real-life, big-hearted throwback-but-new, all based on the bright flavor of our small batch jelly and preserves.
So winter fatigue plus a bit of self-medication plus inspirational ingredients equal the magic mix of some jammin' les collines recipes. We feel sure they'll bring a warm breeze your way. Let us know what you think– and if you have invented any of your own, let us know. Meantime, here's looking at you xo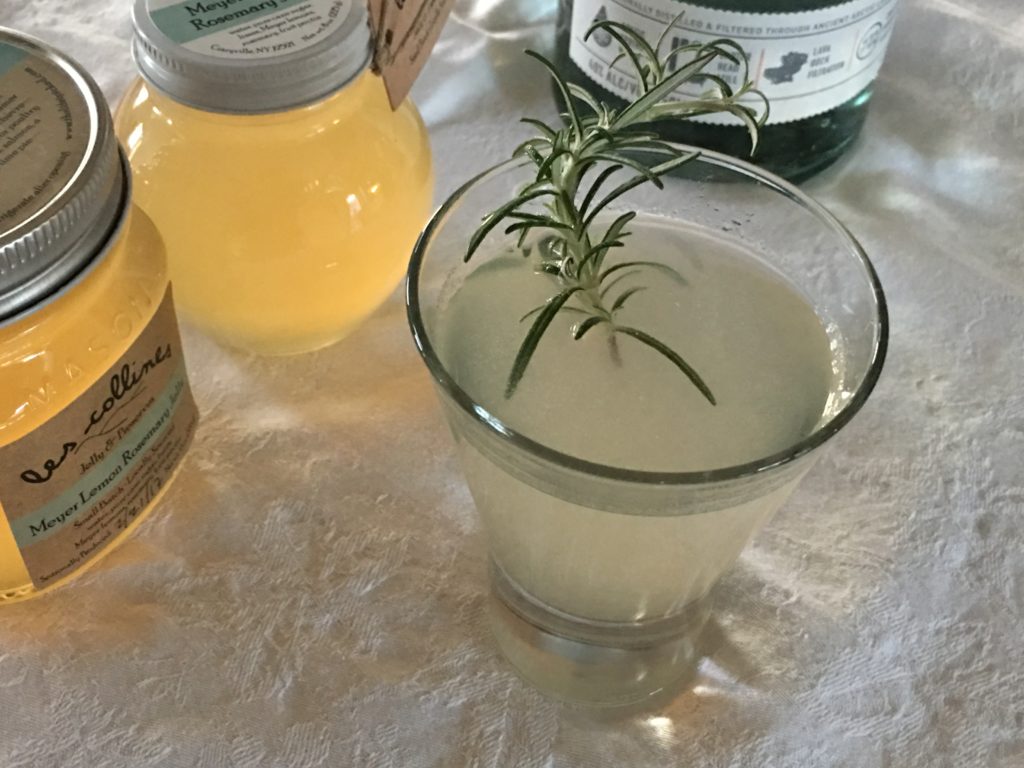 NB: all are just fine without the spirits, simply supplement with seltzer after the shaking is over.
Le Thom Collines
2 oz vodka or gin
2 tblsp les collines Meyer Lemon Rosemary Jelly
For ease of dissolving, vodka/gin and preserve at room temperature if possible, otherwise just whisk for a longer time.
Whisk vodka and jelly together to break up the jelly.
Into that cool retro shaker, now half filled with ice fresh from the freezer, and shake shake shake for about 30 seconds.
Strain into a glass: serve straight up, or over rocks topped with seltzer. Garnish with a rosemary sprig for remembrance, unless you are drinking to forget then try a twist of lime.
Serve with smoked salmon and/or some fun salty chips.
On Your Sweet Lap Daiquiri

2 oz dark rum
2 tblsp les collines Strawberry Preserve with Lapsang Suochong
1 oz fresh lime juice
Muddle the preserve and lime juice well to break up the fruit.
Add the dark rum and shake it, shake it good over ice for at least 30 seconds.
Strain into a sexy glass, garnish with a berry or a slice of lime; paper umbrella optional.
If the fruit bits or seeds prove bothersome, you may strain a second time, use a spoon to scoop them up, or simply keep drinking til it is no longer of concern.
For snacks,  good salty mixed nuts. Grilled shrimp if you can get 'em.
Grape Escape
2 oz vodka
2 tblsp les collines Concord Grape Preserve
3/4 oz St Germain
1/2 oz fresh lemon juice
For ease of dissolving, vodka and preserve at room temperature if possible, otherwise just whisk for a longer time.
Whisk together the vodka and preserve to loosen; add St Germain and lemon juice and shake it all up over ice for at least 30 seconds.
Strain into a jelly juice glass and serve with salted Virginia Jumbo peanuts.