Faroe Island Salmon with les collines Meyer Lemon Rosemary Jelly 

We love the Faroe Island salmon as it is consistently buttery, flavorful, and is cleanly and sustainably farmed in the cold waters off Scotland.
For two pounds of salmon, you will need about 1/4 cup jelly, enough to coat the salmon completely on top and sides about 1/8 inch thick. If cooking individual 8 oz portions, you will want more, 1/2 cup or so.
Cedar Plank:
Oven-soak the cedar plank for about an hour; meanwhile, you can glaze the salmon and allow it to come to room temp.
Preheat the oven to 375; place the oven racks in the middle of the oven, with a sheet of foil on the lower rack to catch any drips.
Heat the plank for 5 minutes; then place the salmon on it; place on the top rack, centered. Bake til carmelized, around 45-60 minutes. Allow to stand for 10 minutes before cutting/serving.
Grilling-this method accentuates the cedar smoky flavor. Soak the plank for as long as possible, 24 hours is ideal. Follow the steps above for preparing the salmon, but omit the plank preheat. If using charcoal, use natural wood briquets and bank them. Grill the salmon til carmelized, spritzing the plank as needed.
Oven roasting:
Equally delicious. Prepare the salmon as above but place on a baking pan or sheet with low sides, use foil or not; bake at 375 til carmelized.
Serve on a bed of dark greens– arugula, spinach, or baby kale are all good– lightly dressed with a citrus dressing.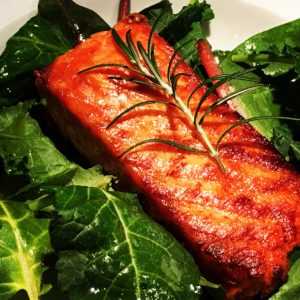 Pork Tenderloin with les collines Sour Cherry Preserve
For two pounds of tenderloin, you will need about 1/2 cup preserve to glaze and more to serve with.
Whisk with a few tablespoons red wine to loosen, if you like, and coat the tenderloin; allow to stand at room temp for 30 minutes or so. Meanwhile preheat the oven or grill.
Oven:
Preheat to 350. Place the tenderloin in a baking pan and roast til internal temp reaches 140-145. Remove from pan and allow to stand 5-10 minutes before slicing in two-inch diagonal widths. Deglaze the pan with about 1/2 cup red wine to make a sauce; drizzle over pork, and serve, along with a dish of preserve at table.
Grill:
Place the marinated tenderloin on a medium hot grill, watching closely as the sugars can burn; cook until desired temp is reached, and proceed as for above.