July 2017, and les collines can now be found in these amazing, local farm- and business- supporting markets in New York, Massachusetts, Connecticut, and New Jersey.
We are delighted to be sending les collines rive droite (of the Hudson) again, to the soon-to-open Ella's Mercantile in adorable Halcottsville, to lovely Historic Hudson way down south in Sleepy Hollow, and to Fishkill Farms, a beautiful spot with amazing produce run by the equally amazing Josh Morgenthau, our peer in the 2016-17 HVADC Farm to Food Business Accelerator program. Jars can also now be found at wonderful family-owned Domaney's Fine Wines in Great Barrington, MA. Stay tuned for additions…
Distant shoppers in need of a jar may visit our online store to place an order!
Spreading the les collines love, one jar at a time xo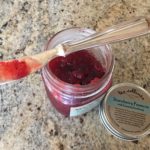 bold indicates stores new in 2017
New York
Adams Fairacre Farms, Newburgh
Bartlett House, Ghent
Bimi's Cheese Shop, Chatham
Blueberry Hill Market Cafe, New Lebanon
Clove Kitchen Market, Red Hook
Copake-Hillsdale Farmers Market (seasonal, Saturdays May through October)
Ella's Mercantile, Halcottsville opening July
The Farmer's Wife, Ancramdale and Millbrook
The Farm Store at Willow Brook, Millerton (seasonal, spring through fall)
Fishkill Farms, Fishkill
Hammertown, Pine Plains and Rhinebeck
Harney & Sons Fine Teas, Millerton
Hawthorne Valley Farm Store, Ghent
Herondale Farm Store, Ancramdale
Hillsdale General Store, Hillsdale
Historic Hudson Valley, Sleepy Hollow
Hudson Valley Farmers Daily Market at Greig Farm, Red Hook
Irving Farm Coffee, Millerton
Liberty Fresh Market, Amsterdam
Lock E-13 Living History Park, Fultonville
Old Chatham Country Store, Old Chatham
Olde Hudson, Hudson
The Placid Baker, Troy
Taste NY Long Island Welcome Center, Dix Hills
Taste NY Market at Todd Hill, Lagrangeville
Two For the Pot, Brooklyn
Connecticut
The Jam Shop, Sharon
No. 109 Cheese & Wine, Ridgefield and No. 109 Cheese Market, Kent
LaBonne's Market, Salisbury
Massachusetts
Bizalion's Fine Food, Great Barrington
The Chef's Shop, Great Barrington
Domaney's, Great Barrington
Dory & Ginger, Pittsfield
Great Barrington Farmers Market, seasonal, May-October
Nejaime's Wine Cellars, Lenox & Stockbridge
No. Six Depot, West Stockbridge
Pleasant and Main, Housatonic
New Jersey
Lucy's Kitchen and Market, Princeton