Just in time for the chill gray days of November, Christy Frank's recipes will warm you up.
These appeared in the fall 2017 issue of Edible Berkshires and make use of the great local distillery Berkshire Mountain, based in Sheffield, MA.
Tip: Having the jelly & preserves at room temperature will aid dissolving.
Cheers!
Little Quince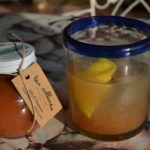 2 oz Berkshire Mountain Distillers Greylock Gin
1 1/3 tbsp les collines Quince Preserves
1 oz lemon juice
If you want to up the Quince factor, stir a ½ teaspoon preserves into your drink. Pair with salty cheese and drink with your best English accent.
Taconic Toddy
1 oz Berkshire Mountain Distillers Ragged Mountain Rum
1 tbsp les collines Crabapple Jelly
1 oz lemon juice
¼ cup hot water
Apple cider vinegar (optional)
Add the rum and lemon juice to a mug. Add hot water and stir until the jelly dissolves. Add rum and garnish with a lemon slice. Add a splash of apple cider vinegar for extra zing (and vinegar makes it healthy….. right?)