Winter 2018, and here is the latest for the fruits and flavors of les collines— please scroll down to the flavors for individual updates.
If you are really hankering for a flavor listed as gone til… mailing or calling us or calling a store or two may find you a few jars!
For all our flavors, the fruits that go into those round jars– as well as being incredibly delicious– are very locally sourced, and picked at the height of ripeness.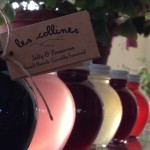 We are committed not only to sourcing from our simply amazing small local farms and orchards for our star ingredient, fruit, but we also source local businesses here in the beautiful Hudson Valley and Taconics of eastern New York and Berkshire County in Massachusetts for our supporting cast as well. Teas (Harney & Sons, Millerton), all-natural pectin (Pomona's in Greenfield, MA) vanilla beans (Madagascar by way of by Hawthorne Valley Farm, Ghent), to name a few. For fruit that must come from outside the Northeast, like Meyer lemons and our other citrus, we mostly work with the wonderful, family-owned Guido's Fresh Marketplace in Great Barrington. Our jars are American made, our labels and tags as well, and they are printed by local printers; help with design, when it exceeds our limited talents (!) comes from local artists.
Small batch is just that. Big pots on the stove that we stir by hand, measure by hand, jars that we fill and seal by hand. As often as not we have picked the fruit ourselves, and if quantities exceed immediate preserving capacity, into the freezer to hold. For jelly, we extract juice either by hanging the fruit in muslin bags, or steaming.
We have online ordering!!! Please link here to our very simple, very functional site– but stay on this page for information about flavors!!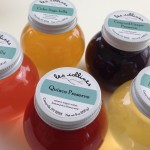 So here is the flavor lineup, in order of their sometimes seasonal and/or historical (to les collines) appearance. The year indicates the year of harvest, followed by an update on availability as of January 2018.
Stay tuned for variations, changes, additions…if a fruit does not harvest well in a given season, another may be up to bat.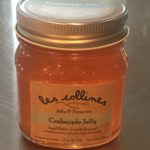 Crabapple Jelly – the little fruit that launched les collines…a perfect blend of the sweet-tart of autumn, this jelly is a classic for roast pork or duck or game hen glaze—my favorite on hot buttered (lots of butter!!) toast!—or with an aged Gouda or Brie for bright canapés. An edible jewel, to brighten shortening days.
2018: In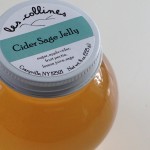 Cider Sage Jelly – handfuls of les collines fresh sage are simmered into a deep infusion, then mixed with local apple cider and a splash of fresh lemon juice. We love it with our Thanksgiving turkey—on the plate or on a sandwich of leftovers!—also great to glaze & serve with  roast chicken or pork, alongside grilled sausage, with cheese or of course on your morning toast or scone! Awesome in a cheddar grilled cheese, with a strip or two of applewood smoked bacon, of course. year-round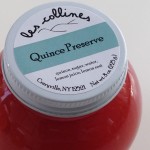 Quince Preserve – this preserve is based on cotignac d'Orléans, a specialty of the French city that is similar to Spanish membrillo. The quince are cooked whole, milled, then cooked again and brightened with fresh lemon juice & zest. A gorgeous pumpkin color, it is a classic paired with Manchego cheese, a perfect trio with very thin sliced Serrano ham. Delicious with most all cheeses and meats; my Spinone Nocci loves it by the spoonful!!
2017: Very limited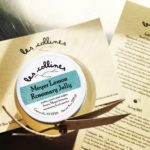 Meyer Lemon Rosemary Jelly – tart deliciousness! Meyer lemons, limes, and big sprigs of les collines fresh rosemary simmer together a good while for this jelly. A sure antidote to the winter blues and whatever ails you, its sunny citrusness with a note of piney rosemary is wonderful with chèvre—with roast or grilled lamb, poultry, duck, or pork—as a glaze for cedar plank salmon, a blueberry tart or Key lime pie—
year-round

Rhubarb Jelly – so pink, so pure, so good on hot buttered toast. The tart rhubarb flavor shines, and the guava color is a welcome salve to the eyes, especially in winter. Try with a soft-ripened goat cheese like Humboldt Fog, or a Stilton or Rocquefort, or alongside cold roast pork—but my favorite is to use for the best jelly donuts ever!!! Perfect sweet-tart taste of spring. 2018: On hold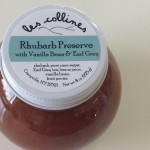 Rhubarb Preserve with Vanilla Bean & Earl Grey – strong Earl Grey tea infusion with lots of fresh rhubarb and scraped Bourbon vanilla pods is perfetto on an afternoon scone with tea, to marinate and serve with pork tenderloin, as a sauce over ice cream—or as many say, direct from the jar…
2017: In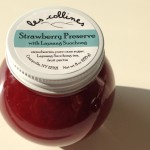 Strawberry Preserve with Lapsang Suochong – one of our favorites– June's best, with an intriguing smoky note from Lapsang Suochong tea, an ancient Chinese black tea whose leaves are smoke-dried over pine fires. Exquisite on vanilla ice cream or on pound cake with crème fraîche; pair with a sheep or a goat milk cheese like Humboldt Fog.
2017: In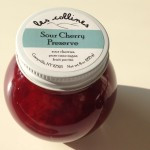 Sour Cherry Preserve – jewels of June, sweet-tart cherry pie in a jar! To serve with roast duck or goose, stir into crème fraîche to serve on lemon pound cake, make a classic pb&j—or of course just by the spoonful. Wonderful with many cheeses– try with a goat Gouda like Cypress Grove's Midnight Moon. A beloved classic.
2017: In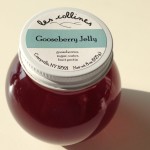 Gooseberry Jelly – this berry stands alone and has thorns to prove it!! In the currant family, gooseberries  look like tiny Japanese lanterns (see a photo here). Their tartness is a perfect foil for shortcrust tarts and pairs beautifully with any nut butter. Try with Comté—or with a goat cheddar and pistachios—lovely as a glaze for cheesecake—
2017: Gone til July 2018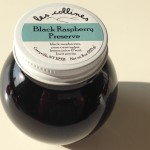 Black Raspberry Preserve – an oft-forgot berry. This preserve is rich with a zing of lemon and divine with a bit of brie in puff pastry, on a seared duck breast, or over buckwheat pancakes. Or spoon on fresh grilled peaches topped with vanilla ice cream for a fresh Melba.
2017: Gone til July 2018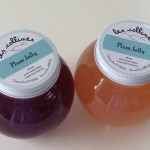 Plum Jelly – we have been using two varieties of this sweet-tart stone fruit of high summer, tart red and Shiro. Shiro plums are a gorgeous sunny yellow but their juice, and jelly, is a pale blush color. In any shade plum jelly is just swell with your favorite nut butter, or stirred into Greek yogurt. Try with some fresh ricotta—or another young fresh cheese—and toasted almonds.
2017: Limited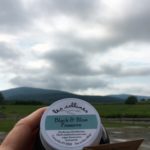 Black & Blue Preserve – From the heart of summer, the darkest gems– blueberries, blackberries, and black raspberries, or trois noirs as one francophone friend calls it– join forces for an intensely flavored and dense preserve. Like 3-berry pie, but more so…to pair with mascarpone or other soft fresh cheese– with sorbet and grilled fruit– and of course direct from the jar! My favorite is with fresh ricotta for breakfast, perfetto.
2017: Gone til July-August 2018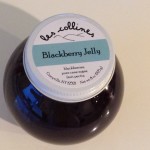 Blackberry Jelly – a deep jewel from the cusp of August. The big seeds of this big berry are set aside and all the fruit essence retained in this dense, dark jelly. Perfect on a buttered English muffin—in a sauce for roast pork, or alongside a grilled steak—with mascarpone, amaretti & grilled peaches or toasted pound cake & vanilla ice cream—
2017: Gone til August 2018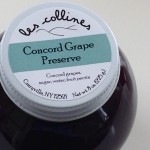 Concord Grape Preserve – Concord grape, need I say more? Fresh-off-the-vine Concords are simmered and milled to preserve more fruit and the quintessential flavor of early autumn and childhood that's unlike any other. The classic for pb&j is also a revelation to the sophisticated palate—try with a blue cheese, or warm and drizzle on a duck breast or pork tenderloin.
2017: In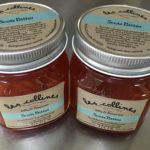 Scots Bitter – for the serious bitter marmalade lover. Hand-cut Seville oranges are long-simmered and finished with Laphroaig 10-year Single Malt for a peaty, smoky note. Wonderful on buttered anything, in a marinade or glaze, on a nut butter sandwich, or simply, straight up!
2018: In, Mason only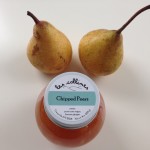 Chipped Pears – beautiful local pears & ginger– ginger now being grown locally in the Hudson Valley, Taconics and Berkshires– plus whole lemons become a preserve-marmalade with a kick. Try as a dip for grilled shrimp, or to glaze kebobs; try with a strong cheese like Époisses, or stir into a sweet potato purée.
2017: In, Mason only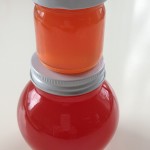 Quince Jelly – fragrant quince from the Berkshires and Columbia County. We simmer & strain these difficult but rewarding beauties for this special, lovely-hued jelly. Perfect to glaze chicken, or foie gras; serve with roast poultry or lamb. Try with chèvre & pears, or mascarpone & Marcona almonds.
2017: None this year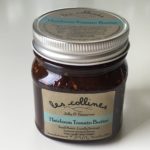 Heirloom Tomato Butter – Part jam, part magic, an old recipe card provided the inspiration for this not a butter at all glorious preserve that captures the essence of heirloom tomatoes. Slow, slow, slow simmered down with brown sugar and apple cider vinegar til it is a little like heirloom candy. With steak, on burgers, in mayo for your BLT, a ray of August year-round.
2017: In, Mason only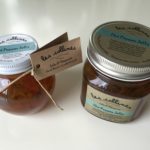 Hot Pepper Jelly – Long asked for, finally here, an irresistible blend of bell, sweet, and jalapeño peppers simmered with white vinegar and pure cane sugar. Southern style to serve over cream cheese, Northern style over chèvre, either way for a lively apéritif. Beautiful with roasts and cold meats, perfect on a cheese board. Mmmhmmm!! 2017: In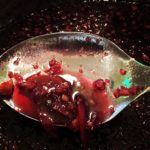 Concord Grape Conserve – Take the amazing flavor of our Concord Grape Preserve and add the brightness of whole organic oranges along with the meaty crunch of walnuts, and you have this delicious conserve. Serve at breakfast, as a snack out of the jar, alongside cold meats or on a cheese board: this conserve goes everywhere and with its bright citrus notes feels especially satisfying in the cold winter months. 2017: On hold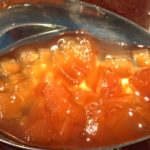 Ginger Preserve – Sweet-fiery, locally grown ginger is the star of this very special, limited edition ginger lovers' preserve. In yogurt, with cheese, in stir fry, swirl into vanilla ice cream. A spoonful will cure whatever ails you xo
2017: In the works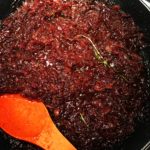 Onion Confit – As the French would say, miam! Onions super slow cook with herbs, aromatics and just enough brown sugar. With burgers, steaks, roasts, sandwiches, on cheese plates, this irresistible confit is just heavenly and will be a natural partner for our Heirloom Tomato Butter.
2017: By special order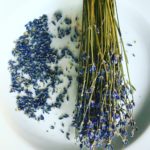 Lavender Jelly – If Provence were a jelly, this would be it. On buttered toast, to sandwich shortbreads, with chèvre rolled in herbes de Provence, with roast or grilled chicken or lamb, to glaze panna cotta. Made with culinary lavender from Lavenlair Farm in Whitehall, NY, this jelly is not to miss.
2017: In, beautiful!
Rose Hip Jelly special limited edition – a new flavor for les collines, inspired by and sourced from Jane Iredale's gardens, also the grounds for the Great Barrington Farmers Market. A beautiful pale orange shade with a gentle tangy flavor (think mild quince) it is ideal for buttered toast, to serve with poultry or pork or with a mild cheese. Rose hips are full of vitamin C, way more than oranges– a nice benefit in these cold months– as well as vitamin A and antioxidants. 2017: Very limited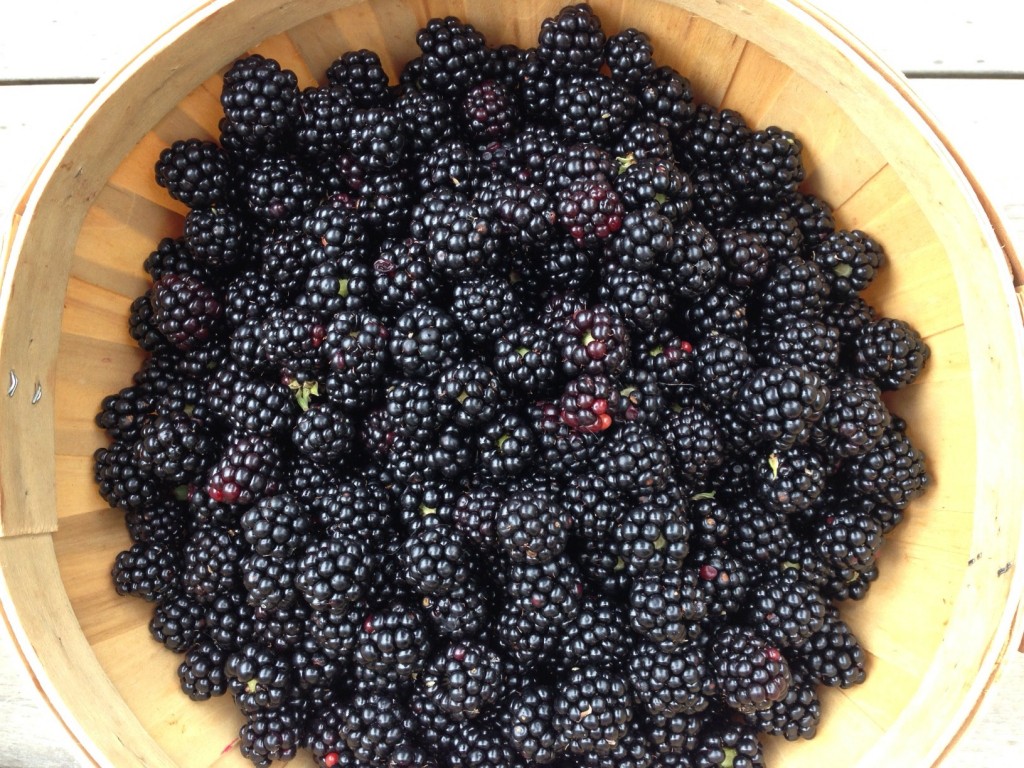 les collines sources from
Don Baker Farm, Hudson   •   The Berry Farm, Chatham   •   Et Cetera Farm, Ghent   •   les collines, Craryville   •   Common Hands Farm, Ghent   •   Et Cetera Farm, Ghent   •   Fishkill Farms, Fishkill   Greig Farm, Red Hook   •   Harney & Sons Fine Teas, Millerton   •   Hawk Dance Farm, Hillsdale   •   Hawthorne Valley Farm, Ghent   •   Hilltop Orchards, Richmond, MA   •   Lavenlair Farm, Whitehall   Little Apple Farm, Hillsdale   •   Love Apple Farm, Ghent   •   Markristo Farm, Hillsdale   Maynard Orchards, Ulster Park   •   Montgomery Place Orchards, Red Hook   •    Migliorelli Farm, Tivoli     Samascott Orchards, Kinderhook   •   Thompson-Finch Farm, Ancram  •   Tousey Farm, Clermont
Trusted Roots, East Chatham   •   Yonderview Farm, Copake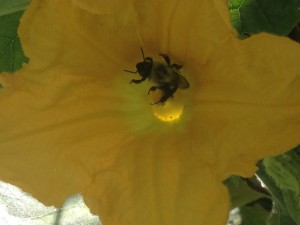 For a printable list of all the flavors and tasting notes:
 les collines flavor notes January 2016